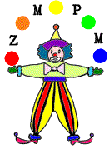 PEACE Spotlight:
Donald Soper (1903 - 1998)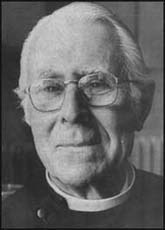 Donald Soper was born in 1903 in London, England.
In the Cambridge University atmosphere of the 1920's he was led towards pacifism by Alex Wood (Scientist) and Henry Carter (Founder of the Methodist Peace Fellowship).
In the 1930's he met and got involved in the formation of The Peace Pledge Union, (PPU) with Dick Shepherd., George Lansbury and Vera Brittain. He became a Christian Methodist Minister in 1926 and he became a leading member of the Council of Christian Pacifist Groups. He wrote for the Peace Pledge Unions paper "Peace News" and in a Christmas 1944 edition wrote, "Non-violence must go hand-in-hand with economic security for all, a common government to secure the welfare of all and a common justice that can be indifferently administered in the interests of all".
He was in the forefront of all the early campaigns against nuclear weapons, speaking at PPU rallies in 1946 and 1950. In 1950 also he stunned the Methodists into silence, but set alight the media by saying that he would rather see the world overrun by communism than plunged into a third world war.
Donald later accepted a labour government given life peerage as a way of advancing his humanitarian causes. (1965)
In 1967 he joined 120 clergy marching from Kingsway to St. Paul's Cathedral over war in Vietnam; he spoke out against violence in Northern. Ireland and war in the Falklands and approaching 90 braved the winter of 1991 to speak at rallies in Hyde Park against the Gulf War.
As was said in the citation for the World Methodist peace prize awarded to Donald in 1981, he has "consistently risen above Nationalism to embrace the good of all, teaching that it is better to suffer wrong than to impose it on others, both individually and between Nations." Donald was a renown open air speaker/preacher in the style of John Wesley (he was a Methodist minister). He could be heard regularly for nearly 60 years at Tower Hill midweek and Hyde Park corner at the weekend. He also wrote several books between 1937 and 1984.
He married in 1929 and his wife died in 1994. He had four children (all daughters). In 1988 Cambridge University awarded Donald, a DD (Doctor of Divinity).
On being asked on one occasion about retirement he replied, "in my work there is no retirement".